WT Tax Accounting is an IRS Enrolled Agent providing tax planning, tax preparation and basic accounting services. While our offices are located in Scottsdale, Arizona and we work most regularly with Arizona-based clients, we also service clients from all over the country.
What is an IRS Enrolled Agent
An enrolled agent is a person who has earned the privilege of representing taxpayers before the Internal Revenue Service by either passing a three-part comprehensive IRS test covering individual and business tax returns, or through experience as a former IRS employee. Enrolled agent status is the highest credential the IRS awards. Individuals who obtain this elite status must adhere to ethical standards and complete 72 hours of continuing education courses every three years. Enrolled agents, like attorneys and certified public accountants (CPAs), have unlimited practice rights. This means they are unrestricted as to which taxpayers they can represent, what types of tax matters they can handle, and which IRS offices they can represent clients before.

Meet Marina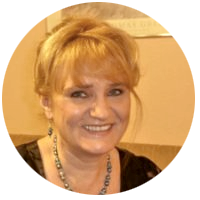 Marina Karpoukhina
Senior Tax Manager
LinkedIn Profile
Marina was born and raised in Ukraine, a former republic of the Soviet Union. Her mother was a prominent scientist in the field of Psychophysiology and her father was Head of Safety for the Ukrainian Mining Industry Ministry. Marina earned her bachelor's degree in Biology and Chemistry in 1979 from Kiev State University and a doctorate (Ph.D.) in Neurophysiology in 1987 from the USSR Academy of Science. She worked as a research scientist for over 20 years in that field – including a unique research experience investigating the consequences of the Chernobyl nuclear power plant accident. In 1994 Marina was invited to the United States as a visiting research scientist on projects at the Barrow Neurological Institute and St. Joseph's Hospital and Medical Center in Phoenix, AZ. A few month later her husband, Vladimir, accepted a similar position in the same department of the Barrow Neurological Institute (where he continues his work today). Marina and Vladimir have now been married for 31 years. In 1995 the family was blessed with a daughter, Alisa. Marina pursued her scientific career in the US for just one year before deciding to retrain herself in taxation, accounting and bookkeeping. In 1996 Marina returned to school where she earned a two-year Associates Degree in Computerized Accounting, Payroll and Bookkeeping in just six months. She accepted her first position with a CPA firm as a bookkeeper and tax preparer and has been dedicated to the field ever since. Marina passed the IRS Enrolled Agent Exam in 2001 and has retained that designation, through continuing education, since that time. Marina is fluent in Russian, Ukrainian and English.